St Croix

, USVI:

 

January 2 - 9, 2006
Our family decided to travel to a somewhat domestic location this year.  We thought we'd be getting away from the passports, backup birth/citizenship documents, and general proof of citizenship that truly international destinations require.  Not quite; we still needed the passports for reentry.  I assume other documents would possibly work but after standing behind the Brady Bunch on several trips through immigration, fuming as they took a lot of time away from a close connection using driver's licenses and birth certificates to establish US citizenship, we didn't want to take a chance.  We booked the air (American Airlines) and lodging (Carambola Resort) through Expedia.  The resort was chosen after getting advice from others who had posted USVI trip reports. 
The flight down was fine, both legs on time.  We rented a car through Hertz, a Ford Focus to give us more space for the dive gear bags.  Driving took a bit of getting used to – British left side of the road style in a US style left hand drive car.  After realizing that a car appearing in my right side vision coming towards didn't mean an accident in the making, we had no real problem getting around.  The tourist maps aren't well marked as to roads; neither are the roads well marked as to number so be prepared to make a few wrong turns.
We found the Carambola to be a nice property in a great setting.  However, the service staff's attitude ranged from surly to downright rude.    That was a first in our travels to experience so many folks at a resort with attitude when no offense had been given.  Others mileage may vary but this was our experience.
| | |
| --- | --- |
| <![if !vml]><![endif]> | <![if !vml]><![endif]> |
Diving was booked through Cane Bay Scuba.  Cane Bay uses 25' RIB boats with a zippered front floor. 
<![if !vml]>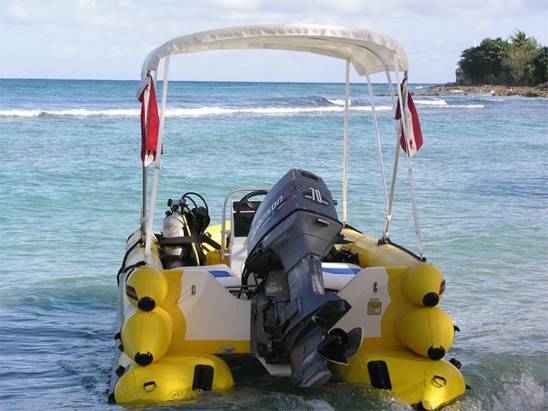 <![endif]>
One sits on the rigid edge, puts on fins, puts on gear with assistance from DM, and then face plants forward into the well formed by the zipped out floor section.  Boarding involved surfacing in the opening, removing dive gear so it can be lifted up by the boat crew, and then pushing up onto the rigid floor's edge and returning to the seating area.  You can see how the boats were set up from the following picture.  Boarding and disembarkment was over the stern onto the beach.  Two to five divers went out on each boat.  The boats carried radios and DAN O2 kits.  The operation was professionally run and no-nonsense.  I watched a staffer handle a would-be diver who presented what appeared to be a filled out PIC card in lieu of a certification card.  That person didn't dive.  Credit cards did not constitute C-cards with this operation.  Nitrox 32 was available.
Diving was along a wall that at times comes within 250' or so of the beach.  At the Cane Bay Scuba location, one can rent a tank and weights for $8.00 for a shore dive.  Most of the dive site range is NOT protected.  We encountered fishermen using nets, tackle, and spear guns.  One dive was re-located when a net was found to be anchored on the dive site buoy.  The Salt River area is protected, though – we did a couple of dives there.  The result of this appears to be a dearth (when compared to, say, Cozumel or Bonaire or even San Pedro) of larger fish.  You'll see many juveniles in the images I'm including.  Larger fish consisted of Blue Tang and Black Durgeon a foot or so in length, sometimes less.  The eels I saw were measured in inches. 
I've posted a collection of images from the day dives and our night dive.
| | |
| --- | --- |
| <![if !vml]><![endif]> | <![if !vml]><![endif]> |
| | |
| <![if !vml]><![endif]> | <![if !vml]><![endif]> |
| | |
| <![if !vml]><![endif]> | <![if !vml]><![endif]> |
| | |
| <![if !vml]><![endif]> | <![if !vml]><![endif]> |
As you can see from the fish shots, pretty small.  The Tang and Durgeon were very skittish (I guess if somebody chased me with a spear, I'd be, too).
The coral was another matter and was a study in contrasts.  Large, growth exhibiting great diversity to boat sized bleached areas. 
The latter problem was attributed to very warm water temperatures last summer.  Water temps on our dives were in the 80-82 degree F range. 
Depths were typically 80-90 feet with one dive dropping to a bit over 100 feet in a quest for better fish life.  The night dive along the Fredricksted Pier was some 33' feet max and long, over an hour.  Most dives were in the 40-60 minute range.  There was no herding; if you had air, you could stay down until you reached 750 psi; then you were asked to head for the line and start an ascent.  Current was nonexistent however there was some surge.  Visibility ranged from 70' plus to under 30'.  This latter issue was attributed to offshore storms.
Here are some images from our night dive along the pier:
| | |
| --- | --- |
| <![if !vml]><![endif]> | <![if !vml]><![endif]> |
| | |
| <![if !vml]><![endif]> | <![if !vml]><![endif]> |
| | |
| <![if !vml]><![endif]> | <![if !vml]><![endif]> |
| | |
| <![if !vml]><![endif]> | <![if !vml]><![endif]> |
Entry was giant stride off the end of a section of the pier; exit was "pass your gear up, clamber up the rubber bumpers."  We swam within the pillars of the pier; active fishing was taking place along the pier near our outermost point before we turned around.
Weather was great with only one day involving significant rainfall.  Wind was 10-15kts, seas ranged from pondlike to a foot or so waves, sometimes with higher underlying swell but nothing like Brac last year with 4-6 foot seaways;.
Topside activities involved a fascinating nature hike with Ras Lumumba (a university trained botanist with an herbalist family background – interesting insights into the uses of the flora on the island), a fun horseback ride, an interesting botanical garden, a mahogany furniture factory, and the Cruzan Rum factory –'mmmm, and some fun kayaking. 
<![if !vml]><![endif]>

<![if !vml]><![endif]>

<![if !vml]><![endif]>

The kayak tour was booked through Anchor Dive, located on Salt River at Columbus Cove.  It lasted about 3 hours and included an interesting narrative on some of the sights in the area and the people responsible for them.  Apparently, a lot of colorful characters have visited or lived on St. Croix.  Wear sandals or water shoes, one kayaker received a nasty cut on her foot from debris on the shore where we beached the kayaks for a break.  One and two person kayaks are available and are relatively comfortable.  They are ocean style, though.  The wells are open to the water and you will be wet; dress accordingly.

Quite a few nice yachts were moored in the bay; board regulars will recognize the catamaran to the left.  I hailed the lady I assume still owns it several times but got no response – nobody home, apparently.  As you can see, the weather was outstanding, with a deep blue sky over the deep blue sea.

<![if !vml]><![endif]>

<![if !vml]><![endif]>

Our riding experience was booked through Paul and Jill's stables, recommended in Frommers.  The horses were retired racing and show animals; a better fate than the glue factory for sure.  They were docile and well behaved.  The ride lasted about 3 hours and involved riding through jungle as well as along a scenic beach.  The Sunset Grill can be seen in the top center of the image in the top right cell of this section.  Fairly close control over the riders was maintained; riding helmets were available for anyone who wished to use them.  As with our other activities, the narrative was informative regarding the flora and fauna visible along the riding trail.

The two images below are from our hiking tour.  This lasted about 5 hours and was what I'd call of moderate exertion.  There was a fair amount of up and down hiking.  Technical hiking boots weren't necessary, though.  Ras Lumumba, pictured below is quite an impressive person.  He has an encyclopedic knowledge of the flora and related information from his university botanical education as well as from his family tradition of herbalist uses of the plants on the island.  He is also very knowledgeable about the island's history and gave a running commentary on significant historical events as they related to what we saw.

<![if !vml]><![endif]>

<![if !vml]><![endif]>

<![if !vml]><![endif]>

<![if !vml]><![endif]>

<![if !vml]><![endif]>

Elizabeth took these images at the botanical gardens.  Rose and Elizabeth visited this as part of an island tour that they booked through the Carambola.  One problem was that the tour took place on Epiphany.  Church holidays are taken seriously; many venues were closed and there were parades in the two cities.  I really like the shot of the windmill.  St. Croix was at one time part of the Dutch empire in the New World.  The stone foundations of many of the windmills used to power the early industry are still visible.  In a couple of cases, they have been converted into residences but this practice is no longer allowed as a result of historical preservation statutes passed in recent years.  The island is a US protectorate with a locally elected governor.

<![if !vml]><![endif]>

<![if !vml]><![endif]>

As the reader will recall from earlier images, the western end of the island is lush with substantial areas of single canopy forest.  The eastern end near the Udall monument is another matter; it is dry and almost desert form in character.  It has not received enough rainfall over the years to recover from the initial deforestation that took placed to allow sugarcane and cotton farming.  Both of these crops are damaging to soil.  We also visited a mahogany furniture factory – no pictures, though.  Small items are available for sale at the factory.

Cruzan Rum is one of the major exports of St. Croix and I recommend the tour. It's short but with plenty of time at the end to sample rum varieties at the bar at no additional charge.  I'll leave it to the gentle reader to discern the opportunities this opportunity might afford.
Driving was easy after the first day or two.  We traveled to Christiansted several times.  A knotted gold bracelet is a signature item on the island and is made locally in several shops.  Diving operators also take boats out from Christiansted.  The Best Western is located very close to several dive boats. 
We dined at a variety of venues.  The Carambola has an excellent restaurant although it is pricey.  We also ate at several beach establishments near Cane Bay and Salt River.  There are also numerous supermarkets from which one can buy food at US prices.  Gas was about $2.25 per gallon so driving wasn't inordinately expensive.  I strongly recommend checking out some of the open air dining venues.  The restaurants in the tourist areas are VERY expensive.  Meals, including breakfast, were much more reasonable at the small beachside cafes.
Our flight home was a nightmare, but then, wasn't really that atypical of the awful experience air travel has become in so many cases.  We duly arrived at the airport over 2 hours before our departure.  The line was long.  After close to an hour in the check in line, a surly clerk announced that the flight hadn't left Miami, probably wouldn't, and maybe a replacement aircraft would arrive around .  We checked in, cleared TSA (friendliest service workers, next to the dive op, that we'd met), and went to the departure area.  There we ran into a couple that Elizabeth and I had been diving with.  They had been booked on the AM flight; it never arrived and they had been placed on our flight.  Okay. 
Well, the 737 arrived at .  The huge crowd was told to rush to the plane and board as quickly as possible as the flight crew had only a few minutes of legal cockpit time; if we didn't clear the gate in time, we wouldn't be leaving.  Well, we got airborne and arrived without incident in Miami.  There, we found after several hours, that no attempt had been made to load our luggage in St. Croix.  We were put up at the airport Crowne Plaza (nice property) and booked on a late AM flight to Nashville.  This connection took place with no incident; however, our luggage was still in St. Croix when we left Nashville for home.  It arrived in Murray two days later; I didn't have to test our DEPP or trip insurance's lost luggage provisions, thankfully.
It was a nice trip.  There were some warts; there always are.  In sum, St. Croix is an interesting, beautiful place to visit with many activities with which a family may occupy its time.