Bonaire Splash 2002-2003
Introduction
We just got back from the Middle Tennessee Swim and Scuba (http://www.mtss.net) 2002-2003 Splash to Bonaire, December 27, 2002, through January 3, 2003. Rick Heydel is the proprietor of the shop and organizer of the trip. This is the second year we have traveled with this group; we took a similar trip to Bonaire last year with this group. My daughter and I both dove; my wife Rose doesn't dive. Some 100 + souls went on the trip aboard a Miami Air chartered 737. The flight out of Nashville went direct to Flamingo Airport, about four and half hours flying time. This really beat the 12+ hours the trip took using American and Dutch Caribbean Express (now Dutch Caribbean Airways, I think) commercial flights.
We experienced the new "don't lock anything" rules with no problems. I took a deep breath at the airport when I took the locks off the bags but nothing was disturbed. No one reported any luggage problems. I checked the MMIIEX system through as checked luggage, no problems.
We stayed at and used the dive facilities of the Divi Flamingo Resort (http://www.diviresorts.com) in Kralenjdik. The weather was typical Bonaire (dry and around 90F daytime, 80f evenings) with one exception, wind and lots of it (pretty much a constant 20-25 knots during the day with stronger periods). The pilot commented on this during his weather announcements. I'll mention a consequence or two of this wind in a bit. The Divi Flamingo has recently completed a facelift – the accommodations we had were great. I had my new Olympus 5050Z (http://www.olympusamerica.com) and Olympus PT-015 (obtained from http://www.japan-direct.com) housing combined with a Sea and Sea YS90DX (http://www.seaandsea.com) strobe kit along – only had two pool dives to get used to it so there was a bit of a learning curve. I'll divide the report up into diving, topside activities, accommodations (there's a story here), camera kit comments, and a shameless plug for Rick's plans for MTSS' trip next year.
The Diving
The Divi Flamingo has, in my opinion, a first class dive operation. Our group was a bit large, some 80+ divers. As many boats as were needed to accommodate us and the non-group guests at the resort were made available, usually 4, sometimes 5 per dive period. Our package was a typical Divi dive offering: 6 days of 2 tank dives, unlimited shore dives from the resort docks, and unlimited tanks for off-property shore diving, and nitrox 32 available at some extra cost. If you're not familiar with Bonaire diving, most main island sites are also accessible from shore with entry/exit conditions ranging from simple walk-ins to some pretty hairy surf entry/exit situations. Additionally, most resorts will allow you to park in their lots and dive from their docks if you bring the tanks. Elizabeth and I completed the mandatory orientation and briefing, bought our marine park tags, and picked up our weights. Many in our group elected to start diving the evening of our arrival to complete the mandatory checkout dive. No one "checks you out" but you are expected to fine tune your weighting and shake out any equipment hassles during this dive. Here's a typical scene boarding the Alice H, one of my favorites – 8 spots to get off fast. Image file sizes are about 256k. The original files are from 1.2mb to 6mb, depending on the setting I used.
| | |
| --- | --- |
| | The two docks are similar. Both have lee side stair entry for shore dives. Numerous rinse tanks with a large "camera only" tank are available; the water is kept clean. Gear can be stored in guarded areas on or near the dock. Tanks are always available during normal hours and can be taken to a car or room for after hours (later than 2000 or earlier than 0730 or so). No one reported any theft issues of any kind. Elizabeth and I left everything but the camera in the storage areas, sometimes taking the wetsuits to the room to dry. |
Elizabeth and I elected to do our check out dive the next morning after a good night's rest – the day had been long and we could go out the next afternoon for a two tank dive.
Next morning we were up and ready to go. As soon as we entered the water I noticed a difference from last year – the visibility around the dock. It wasn't good. There was lots of "stuff" in the water. There were lots of fish, though. We headed out over the wall on Calabas reef, the Divi's house reef and dropped to around 50 feet. The visibility picked up to some 40 feet or so (I'm conservative on viz estimates – undefined shapes moving in a haze don't cut it, so my guesstimates are a bit lower than some). We saw large spotted ray immediately and then three small squid, unusual for late morning. Now the junk in the water took its toll. Here's a shot of one said squid. Can you say "backscatter?"
| | |
| --- | --- |
| | The particulate was everywhere here. I tried several strobe repositionings to get as far as to the side and above the squid. I suppose a really long arm dual strobe system might be able to get out far enough to the side to fix this. I have a 1ft Infinity Arm on the 90DX so that wasn't an option. This was my best shot. Photoshop here we come L . I asked the divemaster that afternoon what was happening. He said that heavy rain in Venezuela (50 miles away) had caused excessive river siltation outflow that was being carried over to Bonaire. Also, remember the wind. A lot of dust was being blown into the water and with many sites near the shore, it was a problem. A film photographer told me the next day that he had gotten a lot of backscatter and had not expected the problem. This wasn't a big issue all week, though. |
We started boat diving that afternoon and hit most of the sites we wanted to see during the week. I'll not waste space with a detailed report or table with data on each site. Water temps were near 80 on every dive. The typical boat drill included a 10-30 minute run to the first dive site, gearing up, mooring, a good briefing, usually calling the first dive for 70 feet and 45 minutes with turnaround at 1700PSI and on the boat with 500-750psi. This was NOT rigidly enforced, we dropped below that level throughout the week and extended some dive times to an hour give or take a few minutes, always staying within prudent air usage guidelines. As most folks had computers, the DM's relaxed a bit.
The second dive started with at least a 30 minute surface interval. This is too short IMHO. We extended this a bit and we watched our depth very carefully and stayed near 40-50 feet and came up as slowly as we could. Third dives were almost always shore dives some hours later.
We dove Something Special, Hands Off, Cliff (3 times, different experience each time), and others. The dives at sites to the north or well out on Klein Bonaire generally had much better visibility, reaching 75 feet or so on some dives.
One other surprise, current. Bonaire doesn't have much if any, right? Wrong, at least this time. On two or three dives it was quite significant. Not a Santa Rosa (Cozumel) express, but very noticeable and requiring a definite dive plan of upcurrent then downcurrent.
Elizabeth and Rose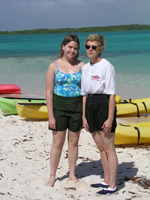 My Buddy, Elizabeth
Stuff we saw.
The reef looked MUCH healthier than last year; it had taken a beating from Hurricane Lenny in '97 (?). Vertebrate and invertebrate life abounded. Here are some representative pictures. The ray mentioned above was the only one we saw all week and no turtles at all (only two or three folks saw the latter – wonder where they were?). However, there were eels aplenty.
Big ones

This guy was big, Elizabeth spotted it below us, we followed above and sure enough it started up the reef and passed about 4 feet in front of me. This was a lucky shot as I was having to track it after depressing the shutter to allow for digital shutter delay. Lighting could have been better, I had the strobe on a lower power setting from some close-ups earlier.

Little Ones

Lots of these cuties on just about every dive. Elizabeth's eyes and pattern recognition skills are so much better than mine, she'd spot them and I'd get a picture. This shot won 3rd in the photo contest, underwater category (nice halogen dive light as prize).
And the one that got away:
On one of the dives at Cliff, we swam up to the small wreck nearby. I looked under my side of the boat and saw what looked like a length of green sewer pipe under the overturned gunwale of the small wreck. The head was under the wreck and visible from the other side. I couldn't get a shot without blindly sticking the camera up under the wreck (of an inverted small open boat) and attempting a shot, there wasn't enough clearance to get the strobe arm in while holding the camera normally. I suppose I could have taken the arm off and tried the built in flash, but really didn't want to stick anything that close to the really big green moray under the boat. I'd guess the critter was hand fed (heard this, too, from other divers) by the DM's of one or more of the nearby resorts. At least it didn't swim out and expect a handout. My only injury for the week was a blister from, I guess, tinkering so much with the strobe arm; I wanted to keep it that way.
Lots of Invertebrates
| | | |
| --- | --- | --- |
| | I missed the little crab below the urchin when I took the picture | |
Lots of Fish
Corals and Sponges Aplenty
Other divers
| | | |
| --- | --- | --- |
| | | |
| Safety stops were picturesque | Rebreather divers on Cliff, Elizabeth in foreground | That cast didn't seem to be a problem |
Topside activities
Bonaire was so different this year. Last year, 911's fallout had reduced travel to the island to the point where our MTSS group and one from Michigan were about it. A day's boat dives could be completed without seeing another operator's vessel. Restaurants were yours to enjoy alone. This year, every bed on the island was taken. Mangrove kayak tours, cultural tours, tours of the Washington-Slaggbai park, parasailing, Hobie Cat rentals, were all available again. We took an ecologically oriented kayak tour of the mangrove areas on the southeast side of the island. The tour operator is opening a small museum and information center in that area. Without getting too windy, it was informative and fun. Here are a few pics from it:
| | | |
| --- | --- | --- |
| | | |
| The kayaks were easy to paddle but a bit tippy. One flipped right at the end. No lasting harm done. | Underwater shot of upside down jellys that cover the bottom of open areas. | Pile of conch shells (and other debris) at public beach near mangrove area. Rose won an award in the topside division of the photo contest for this one. |
In addition to varied topography, topside wildlife is varied.
| | | |
| --- | --- | --- |
| | | |
| | | Lizards are everywhere, iguanas and other types (Elizabeth provided the foot) |
| Donkeys abound, descendents of those that came with early Spanish conquistadors. Elizabeth won an honorable mention in the topside category for this one. | This is the only cropped picture on this site. Taken at SHQ with full digital zoom. I was surprised it was at all recognizable. | |
Accommodations
The Divi Flamingo has been reviewed many times. We stayed there last year and like it; a lot of renovation took place this year and we liked it even more. The A/C consists of new heat pump units with a remotely controlled inside unit; no impromptu baths of condensation from the blower unit this year. TV and phones in each room, lots of support staff, unlike last year post 911. One other thing, to some this is no big deal but it matters to us in terms of convenience. The tap water is great, no need to drink bottled water (or worry about failing to), ever, as far as we could tell. The island uses osmotic desalinization to produce potable water; so do other places, but on Bonaire, the distribution system is intact with no groundwater contamination of the water from broken pipes. Just something to think about.
Now the story. If you follow the thread on problems folks have encountered with Divi Corporate and reservation issues on the Bonairetalk accommodations forum, you'll recognize what happened to some of us. Rick had carefully laid out room needs to corporate; the communication with the property from corporate was apparently not so good. There were a few snags the first night. It took a bit of shifting to get folks into the right rooms but by Saturday evening, all were pretty much where they should be. To compensate, the Divi folks included ALL 3 meals everyday in our package, not just breakfast. For a family of 3, that's big bucks saved, and the food was excellent. The staff was universally friendly, including the onsite management staff who were apparently far more numerous than last year.
The dive staff was, as always competent, but seemed a bit more forceful in wanting to limit the dive parameters in the briefings. That posed no problem, just about everyone had computers and could use them. We eventually pretty much dived to whatever reasonable limit each of us and our buddy were happy with. I dove nitrox 32 on 6 dives; a labeling system, O2 analyzer, and pressure gauge were available at the dive shop; I used my own O2 checker to validate the site's analysis, it was within plus or minus .2 percent on each tank.
There were 24 hour watchmen on two dive gear storage areas. We were spread out and some used the north pier, some the south, for diving. The boats picked up at both piers so there was no schlepping gear back and forth.
The property was full, as was the rest of Bonaire. This is, IMHO, a good thing. Folks who want to work should be able to find jobs that support them and their families. I guess this helps but it seems like a lot of the money we spent doesn't stay on the island. Cruise ships were coming in and out for the first few days. The Noordam looked like a real ship; the others, built from what appeared to be Carnival-style draughts, looked like floating boxes. Hopefully they didn't dump their blackwater and sludge tanks on the reef.
Olympus 5050Z, PT-015 housing, Sea and Sea YS-90DX strobe
I noticed a really good review of the camera and housing going up in parts last night; I'll limit my comments to some things I noted. I've been a photographer since the mid-60's and have used topside 35mm equipment from full manual Pentax screw mount systems to fully automatic auto focus systems. I'm not bragging but I have had some experience and training in photography. I acquired a MMIIEX system for this trip last year and used it on that trip and several others, shooting somewhere in the neighborhood of 80 – 90 rolls of film in pool and open water sessions. I could never seem to get all four parameters right at the same time – shutter speed, flash setting, f-stop, focus, and composition. If the technical settings were right, my framing was off. If I had something framed right, it was either dark, burned, or out of focus. In September, I pulled all the books and manuals out and hit the pool again. More scalped divers in full frame shots. I was frustrated. I had been watching the growing number of posting of digital stills with admiration. So I hit this board, wetpixel, and digital diver.
I ruled out a housed digital SLR – too expensive. The low end Sea Life just didn't have enough horsepower, so that left the various viewfinder digitals. The 4040z had been out a year. However, my calls to buy one left me to conclude it was in short supply outside of grey market vendors (This was in late October). The area Circuit City got 3 5050z's in; I and two other folks bought them the first night or so they were on display.
Now to a housing. The PT-015 was announced for late November availability, that's pushing it but workable. I ended up ordering from Japan-Direct to try to get something here to use in the pool once or twice before the trip. I also ordered a YS90-DX kit from B&H PhotoVideo as they had all the pieces in stock. Everything arrived in early December. Everything also worked the first time around. I've posted and subsequently removed some of the pool trials. Now for the real thing.
The Olympus PT-O15 housing worked fine. It's easy to set up; two O-Rings to manage. I never had a problem with condensation; I did keep one dessicant pack in the housing at all times. The jog wheel that concerned folks works easily enough underwater. I wouldn't want to try it with heavy gloves, though. There was never (down to about 100 feet) any indication of leakage. The O-Rings can be visually inspected for a seal and contaminants around most of their perimeter. That's comforting. I generally used the camera in the housing for topside protection, too.
I shot in manual mode for most shots: ASA 100 equiv; F6.3 for starters (varied between f8 and 5 for most dives), shutter at 100 or 125, sometimes 250, macro mode on, iESP focusing, and LCD on. I set the strobe for full power for starters on a dive, but usually backed off one or two or more switch positions as most of my shots were within 3 feet of the subject. It sure is nice to check for gross under/over exposure and reset and reshoot if the subject cooperates. Batteries lasted 2 dives, barely. I used 1800ma PowerEdge units. Now for the only real disappointment. I took a Maha charger along – it died (power supply actually, I think) on the first set of batteries I tried to recharge. Fortunately I had a Sony quick charger along; it worked flawlessly. Thomas Distributing will be getting a call from me Monday L. I burned a CD after every dive set. The HP laptop and other electronic gear (charger excepted) worked just fine on the local power. No plug adapters were necessary.
The seahorse, worms, and shrimp were shot in macro mode from about 6-7 inches. I can't see any easy way to shoot in super macro at 1 or 2 inches if a single strobe on a relatively short arm is being used. The housing just gets in the way of the light.
The YS90DX shoots as a manual unit on the 5050Z. There are more detailed reviews available. One gotcha that got me. After the first shore dive, I turned both the main power and the slave switch off. Guess which one I didn't turn back on next dive. Don't forget the slave switch, the strobe won't fire unless it's on. I've got 30 bluish pictures courtesy of this flub up on my part. I choose the Sea and Sea in part because it uses AA's and not a proprietary rechargeable battery pack. I'm probably being overly cautious as lots of folks get excellent results from the two Ikelites that can be used with the 5050Z
Second gotcha – the 5050Z's battery indicator reads full until power is about gone. I was rushed on one dive set and didn't change batteries from the Mangrove tour. I didn't think I'd used it that much. Well, five minutes and one shot into the dive, the battery packed it in and the system shut down. And how many octopi did we see? How many fingers on my hand? Oh well. Ditto the scorpion fish that was sitting on an open coral head clear as day. Live and learn. Fresh batteries for each two-tanker will be de rigeur in the future.
The red focusing light that the 5050Z uses to lock on did not appear to disturb fish or invertebrates. However, the white modeling light I attached to the strobe head to assist with aiming seemed invariably to alarm the subject. I got by without it.
I used xD 128mb cards as the primary storage medium. If one uses CompactFlash or Smartmedia, no compatibility issues exist but writes to the cards are very slow compared to the xD, particularly for high resolution shots. I did use an Oly xD/CompactFlash adapter card to insure compatibility with the USB card reader I took along.
Using iESP autofocus instead of spot focusing seemed to work okay. I didn't do any A/B testing (remember, diving is supposed to be fun). A few shots had the background in focus and the foreground subject soft but not many.
Well, what to do with the MMIIEX? eBay, probably. Rick had his new Olympus E20/Light and Motion/Ikelite strobe system and got excellent results. I think we are at the point where consumer digitals can rival film in low light conditions. There is no contest IMHO in terms of ease of use in terms of checking exposure and composition. I simply don't know how I could have used the MMIIEX to get most of the images I got this trip.
Digital lag with the 5050Z is present but not an overbearing issue. Rick's E20 SLR doesn't have that problem. Folks might also want to read the article in the December issue of Discovery magazine regarding the new Foveon Corporation X3 chip that is making it's way into high end digital SLR's (about $1800.00 for the Sigma, minus lens). This chip addresses the digital limitation of a sensor pixel being unable to register more than one of the three primary colors at a time. This is where film, with three emulsion layers, has maintained very real superiority in resolution and lack of "noise." There's also an article at http://www.dpreview.com/news/0202/02021103foveonx3preview.asp regarding an X3 prototype.
Indeed, there is a German study (http://www.uschold.com/pdf/Report%20SLR%20Public%2009.02%20N.pdf) referenced on digitaldiver that concludes that current 5+mpix sensors WHEN matched to a lens designed for digital use exceed 35mm film in low light quality image reproduction. I remember the mid 80's prediction that analog records would be around to the end of the century and beyond as true high quality sound can only come from analog sources. Outside of niche markets, they didn't last to the end of that decade. I would suspect that an underwater digital/analog imaging evolution will similarly be more rapid than many anticipate.
Shameless plug
MTSS's staff runs a great program based on our experiences. The trips are fun, with the staff's resolution of what often may be a real hassle to the traveler completely transparent to the traveler. We had a fun treasure hunt, photo contest, and early sign up contest – all of which were a blast. Of course, the fact that our family won a Scubapro M25/S600 regulator set, a halogen diving light, and a number of other useful diving items might have some bearing on this view J. Their plans next year are to go to Grand Cayman.